The most common causes of intersection crashes are speeding, running at a yellow light, failing to stop at a red light, and refusing to give the right of way to another motorist.
According to the Federal Highway Administration (FHWA), 36,000 fatal car accidents occurred in 2019, 10,000 of which happened at an intersection.
About one-half of all accident-related injuries reported in the U.S. happen at intersections. These crashes often lead to life-changing injuries such as spinal injuries, traumatic brain injuries, or death.
You could seek compensation by filing a personal injury claim or lawsuit if you or a family member were injured in an intersection crash.
But first, read this post for details on the causes of intersection crashes.
Common Causes of Intersection Crashes
Remember when you stopped at an intersection and saw an impatient driver attempting to "make" the light? That is generally regarded as aggressive driving and is responsible for about two-thirds of all road fatalities.
According to the FHWA, the following aggressive driving behaviors are most frequently observed among American drivers, and they frequently contribute to intersection crashes:
Failure to yield the right of way
Speeding
Improper lane change
Following too closely
Failure to observe traffic signs
Making improper turns
Speeding Is a Top Cause of Intersection Crashes
The main cause of fatal crashes linked with aggressive driving is speeding. That's because the faster the aggressive car moves relative to your vehicle, the more force it will transfer to your vehicle.
This increases your chances of sustaining full-body impact injuries since your muscles will contain the force of the collision.
Speeding is one of the top reasons why intersection crashes are so risky. Often, a motorist will accelerate to beat a red light and will either reach the intersection at high speed or try to brake abruptly, causing a rear-end collision.
According to Florida law, engaging in two or more actions listed below simultaneously constitutes aggressive driving.
Exceeding the speed limit
Following too closely
Improper lane changes
Improper passing
Violating traffic signs
Aggressive driving is frequently responsible for intersection crashes. For example, breaching a stop light sign by speeding through the yellow line counts as aggressive, reckless driving in Florida.
A Florida personal injury lawyer can argue that the motorist was negligent per se—that is, for breaking the law.
Using Evidence to Determine Causation
Clear evidence that doesn't need forensic analysis is one of the simplest ways to identify an intersection crash's cause. After an accident, skilled Florida personal injury lawyers will seek out and gather the following evidence right away.
CCTV footage from nearby businesses
Witness statements
Cell phone photos and videos of the scene
Vehicle black-box records
Vehicle maintenance records
Blood alcohol and drug tests
Some of this information is not always accessible. However, a dashboard camera or incident footage from a nearby grocery store may immediately identify the cause of the crash.
We Help Our Clients with Their Legal Needs by Connecting Them with Skilled Attorneys
It is best to correlate an eyewitness narrative with documentation proof of the scene to ascertain the cause since eyewitness statements of the crash are sometimes incorrect.
Therefore, taking photos and videos of the accident scene and the vehicle damage is crucial before any commotion occurs.
As long as you are safe, ensure to take a picture of the exact position of the cars after the crash, any debris on the road resulting from the crash, tread marks left by either vehicle, nearby traffic control devices, and any markings on your car resulting from the accident.
What Is Florida's Comparative Fault Law?
Considering that intersection crashes often involve multiple cars, holding both drivers accountable for their actions can be possible.
If, for instance, you stopped at a four-way stop and both drivers engaged in the collision claimed to have the right of way, both can be deemed partially "at fault" for the collision.
But what are your rights for compensation if you were the only person hurt? Each state follows the rules for deciding who is at fault in multiple-vehicle intersection crashes.
While some states deny compensation if you were at least 50% at blame for the accident, just a few states will forbid compensation if you were even one percent at fault.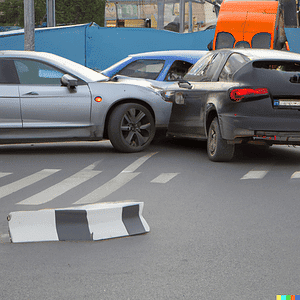 However, Florida adopts a "pure comparative fault" system. According to Florida's legal code, contributory fault billable to the plaintiff reduces damages awarded for an injury in proportion to the claimant's contributory fault but does not hinder recovery.
In layman's language, if a personal injury lawyer wins your claim, whatever you receive as compensation for damages will reduce by your percentage of fault.
For example, say you were awarded $10,000 for your damages. If the judge determined that you were ten percent at fault for the intersection crash, you would be eligible for $9,000 in compensation, representing a ten percent decrease in your initial award.
Contact a Personal Injury and Car Accident Lawyer Today
Finding the cause of a car accident is difficult, especially an intersection crash with two possible sides of the story.
Even if the cause of the collision is unclear, you are still eligible for compensation for your damages.
Legal Giant can link you with the best personal injury attorneys with experience representing individuals in car accident cases.
Contact us at (855) 740-5024 to schedule a free consultation today.