Workers hardly anticipate getting hurt when performing their tasks, adhering to company rules, and navigating their workplace.
Regardless, accidents do happen. Knowing what to do after suffering a work-related injury can enable workers to pursue their compensation faster than they would if they were clueless about the process.
It all begins with reporting the injury. Here is everything you need to know about reporting a workplace injury.
When Does an Injury Need to be Reported?
Most U.S states have two workers' compensation deadlines. One is the deadline for reporting your injury to your employer, and the second is the deadline for filing a claim for benefits.
You can lose your eligibility for benefits if you miss either of these deadlines. So, when should you report a workplace injury?
You should report any job-related injury to your employer or supervisor immediately. Generally, there's a time limit that you must meet for you to have a valid workplace injury claim.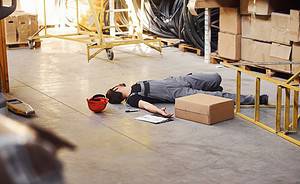 Note that deadlines differ from state to state. California, for example, allows a 30-day window, while the deadline in Iowa is 90 days.
In the case of occupational illnesses that develop gradually, such as carpal tunnel syndrome, the clock starts ticking as soon as you discover the condition and its relation to your work.
Remember, lateness in reporting a workplace injury can render you ineligible for benefits or reduce your settlement amount. So, it would be best to report a work-related accident or injury as soon as possible.
How Exactly Does One Report A Workplace Injury?
The time limits of reporting a workplace injury to your employer are very strict. But still, how you report the injury matters a lot as far as protecting your right to file a workers' comp claim is concerned.
So, how would you report a workplace hazard incident and injury?
Well, reporting requirements depend on the state that you live in. But generally, you should issue a written notice to your employer.
You may fill out a formal accident report, issue a handwritten letter, type an email, or send a text message to your employer. Any of these is acceptable.
When reporting a workplace to your employer, make sure to include:
Your name and address
The time, place, and date of the injury
The nature of the injury
Make sure your report indicates that the injury happened when on the job. Also, keep a copy of the correspondence for your records.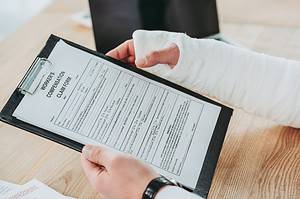 Some states allow oral notices- typically by reporting to your supervisor, human resource department, or coworker. However, don't assume that your employer received notice of your injury just because you told one of your coworkers about it.
Even if oral notice is permissible, try to get a written report into the hands of someone higher up the rank chain.
If any questions arise on whether you reported the injury on time, you would have the documentation to prove it. That's exactly why keeping a copy for your records is encouraged.
What Systems Are in Place to Prevent Workplace Injuries?
The U.S has implemented several systems to prevent workplace injuries. One of these is the Occupational Safety and Health Act (OSH Act) which governs occupational health and safety in the private sector.
The OSH Act was passed in 1970 by the federal government to ensure employers provide a safe work environment for workers. The Act requires employers to recognize hazards, such as mechanical dangers, unsanitary conditions, or exposure to toxic chemicals and find solutions for them.
Several regulatory bodies have also been created to reinforce workplace safety further. The OSHA Act, for example, led to the creation of the Occupational Safety and Health Administration (OSHA), a regulatory body for private organizations.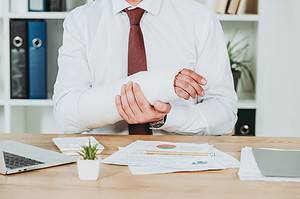 Since its foundation, OSHA has significantly decreased work-related injuries, conditions, and deaths. In fact, it decreased the fatal injury rate from 38 per day in 1970 to 14 per day in 2018.
The OSH Act also oversaw the creation of the National Institute for Occupational Safety and Health (NIOSH). This federal agency conducts research and makes recommendations for the prevention of work-related injury and illness.
Got a Legal Issue? Let Us Help You Find An Attorney Near You
Simply put, we have adequate systems looking for workers' rights and helping prevent workplace injuries.
How Long Do I Have to Report a Workplace Injury?
If you were injured on the job, you have a limited time to report the injury to your employer.
But how long do you have to report a workplace injury?
The time limits differ across states. However, most states require workers to report work-related injuries or illnesses to their employer within 30 days from:
The date of the injury
Your knowledge of the injury
A doctor's determination that you have a workplace injury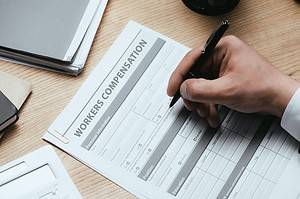 Some injuries, especially those resulting from accidents, are obvious. But for others like overexertion injuries or illnesses that arise gradually, no one can tell with certainty when you first contracted them.
For this reason, the state laws allow you a 30-day (minimum) timeframe from the date you or your doctor realized the injury.
Failure to report your injury within your state reporting deadlines can cause you to forfeit your right to workers' comp benefits. Legal exceptions are sometimes granted; otherwise, you must seek remedy in civil court.
What Mistakes Should I Avoid When Reporting a Workplace Injury?
Insurance companies often use written notices or accident reports to dispute workers' comp claims. They, for example, compare the information in your report to your treatment records and other evidence.
In case of any inconsistency or error in your reported information, the insurance company can deny your workers' comp claim.
So, when completing your workplace injury report, avoid:
Including symptoms that you have not experienced
Speculations about your accident (if you don't know what triggered a slip and fall, for example)
Lying about restrictions that you don't have
The written report ought to be precise and honest, but it doesn't have to include all details. Being overly detailed could flop.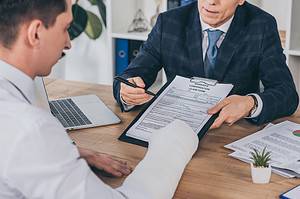 You should also not be too specific if the severity of your injuries is unclear. Notably, don't include any diagnosis unless your physician gave you one.
However, make sure to include all symptoms, even minor ones. For example, suppose an object hit your head at the workplace, and you experienced a minor headache.
The pain may seem minor at first, but it can develop into a more severe problem in the future. Mentioning a headache weeks after the injury can have the insurer questioning your credibility and denying your claim.
Are There Any Other Employee Obligations?
Reporting your work injury is not the only responsibility that you have to meet as an employee.
After informing your employer of the injury, you should:
Go to the emergency room or clinic for treatment
Visit your primary care physician for assessment (if emergency medical care is not necessary)
Follow up the workers' comp claim with your employer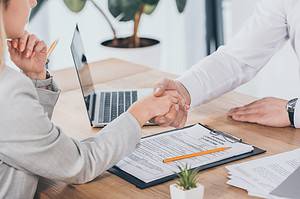 Employers put their interests first. So, never assume they are doing their best to sort your workers' comp claim. It is upon you to fight for your rights and the compensation you deserve.
If your employer is reluctant to file a claim with their insurance company, consider speaking to a workers' comp attorney.
Act Now with Legal Assistance
If you were injured at the workplace, time is important if you wish to seek compensation. Failure to report the injury on time can have your workers' comp benefits denied.
An experienced workers' comp lawyer can help you report your injury within your state deadline.
At Legal Giant, we work with a team of lawyers who can help you throughout the process, from work injury reporting to ensuring your workers' compensation claim is prepared correctly.
Contact us today for a one-one review of your case with one of our partner lawyers.