As an employer, workers' compensation insurance is in your own and your employees' best interests. It covers their medical care, lost wages and disability, and even re-employment assistance if needed if they get hurt on the job.
But did you know that workers' compensation was designed to protect employers too?
There were times when workers injured on the job had to sue their employers to receive compensation. To the employee, this denoted delayed benefits or no benefits at all. To the employer, this suggested a possible financial downfall if the employee won a huge sum in court.
Workers' compensation insurance came as an answer to both problems. It replaced legal liability with no-fault insurance. Employees who suffer injuries or illnesses on the job don't have to prove fault anymore, and employers are protected from lawsuits.
Want to know how workers' compensation insurance works and how it protects your business? Read on to understand.
What Exactly Is Worker's Compensation Insurance?
If a new business owner hears about workers' compensation for the first time, you must ask, "what is workers' comp insurance?"
Workers' compensation insurance, also called workman's comp, is a system of benefits provided by law to employees who suffer work-related injuries or occupational diseases. The benefits are paid regardless of fault, and they help to:
Cover their medical care and treatment
Replace lost wages if the worker takes time off work to recuperate
Offer disability benefits
Provide death benefits if an employee loses their life in a work-related accident or illness.
Workers' compensation also has benefits for you, the business owner. It offers you liability insurance coverage, thus protecting you from legal lawsuits from an employee injured at the workplace.
Who Provides Worker's Comp Insurance?
Workers' compensation insurance is not part of your business owner's policy (BOP). It should be bought as a separate insurance policy.
So, who provides workers' compensation insurance? There are insurance providers who sell it. These insurers take up the responsibility of settling workplace injury claims.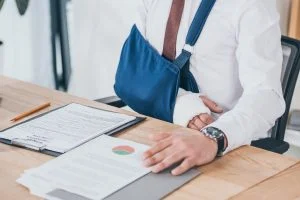 If shopping for workers compensation insurance, you might wonder who the insurance companies are. Here are our best picks for workers' compensation providers for small businesses.
The Hartford
The Hartford will be a good choice if you want to bundle up all your business insurance instead of juggling multiple insurance providers.
The Hartford focuses on small businesses, providing great packages, including liability insurance, business income insurance, and workers' comp insurance. Their packages are easy to assemble and customize.
Hiscox
Hiscox was the first insurance provider to offer online workers' comp insurance in the U.S, specifically for small businesses.
The Atlanta-based insurance provider services over 400,000 small business owners. In addition, it offers multiple other coverages, including cybersecurity and general liability plans, all tailored to small businesses.
Suracy
If customer service is a priority to you, Suracy should be at the top of your list. The insurance provider has a five-star rating on Consumer Affairs, way above Hiscox, which rates three-star on Consumer Affairs.
Suracy mainly concentrates on church insurance but also provides workers' compensation coverage for small businesses.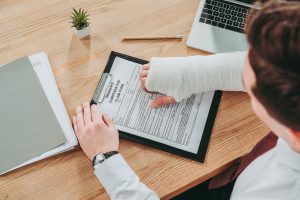 The insurance carrier offers several benefits, including customized policy packages and online claims filing, regardless of what industry you own or the organization you are part of.
Zurich
The international carrier based in Swiss offers property, casualty, and life insurance services to more than 200 countries.
Zurich's business insurance allows you access to risk-management services to help make your workplace safer and your premiums lower.
biBERK
Berkshire Hathaway, one of the best insurance providers across the world, is the parent company of biBERK. The insurer focuses only on small businesses but does not rely on outside insurance agents to get workers' comp benefits that suit you.
Instead, biBERK works as a direct insurance carrier, meaning you can get a quote faster and at a better rate.
Travelers
Travelers is the greatest underwriter of workers' compensation in the U.S. The insurer helps businesses reduce their claims, make work environments safer for workers, and improve claim outcomes.
In addition to underwriting, Travelers has a nationwide network and local experience. It also offers the best customer experience and customized insurance solutions.
Who Needs Worker's Comp Insurance?
Like any other no-fault coverage, workers' compensation is only fair if it applies to all employees and employers. Most states require almost all employers to have workers' compensation coverage.
So, if you have employed any workers, it is possible that you need workers' compensation insurance. Ask yourself these two questions:
Am I an Employer?
If you employ one or more workers, then you are an employer. As defined under workers' comp law, a worker is anyone you pay to complete a task for you who is not an independent contractor.
You do not need to carry workers' compensation coverage for independent contractors, though you can opt to do so.
Are My Workers Exempt?
Some workers do not have to be covered by workers' compensation. Some of the most common exemptions include:
Partners- As long as they are real partners with the right to make business decisions, you do not have to cover them.
Corporate officers- Corporate officers are included in coverage, but can elect to be exempt. Therefore, you do not have to cover these if they are also part of the board of directors and own 10 percent of the stock.
Limited liability company members- Most LLC members are exempt, even if they do not have substantial ownership.
Remember, if sole proprietors, partnerships, or limited liability companies work under a contract, they must qualify as independent contractors to be exempt.
How Much Does Workers' Compensation Insurance Cost?
Every state has laws concerning workers' comp insurance, so the cost of a policy will depend on where your employees are located.
Companies with more employees and higher risks pay higher rates for workers comp coverage because they are more likely to encounter workplace injuries.
Got a Legal Issue? Let Us Help You Find An Attorney Near You
So, what is a standard worker's compensation insurance cost for a small roustabout business?
Depending on the payroll, a small business's average workers' compensation plan could range from hundreds to several thousand dollars per year.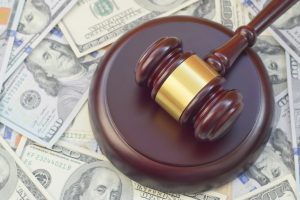 Total payroll impacts work compensation costs since premiums are calculated per $100 in payroll. Depending on several factors (discussed below), a workers' comp policy costs approximately $1-2 for every $100 covered payroll.
That means a small business with ten covered employees, each making $50,000 a year, can pay between $5,000 and 10,000 annually on workers' comp insurance.
What Factors Influence Workers' Compensation Insurance Rates?
Your workers' compensation insurance cost depends on several factors, including:
1. The State Where Your Employees Work
Workers' compensation is regulated at the state level, meaning the rules and rates vary from one state to another.
Your business must adhere to the laws of the states where your employees work- not necessarily where the company is based.
2. Your Industry
Businesses are evaluated based on the work done and the potential risk for physical illness or injury. That means the work performed will influence your workers' comp premiums.
Classifying workers accurately- based on the work they do more is important as it could affect your premiums significantly.
3. The Payroll
As earlier mentioned, payroll size is considered when calculating premiums.
Generally, the wages of injured employees influence their payout on a claim. So, insurance policies consider this when setting the cost of your policy.
4. Claims History
Insurance companies use your workers' compensation claims history to gauge the safety of your workplace and your likelihood of having claims in the future.
Any claim, whether big or small, will influence your insurance rates. Conversely, years without shares reflect a safe work environment and can attract lower premiums.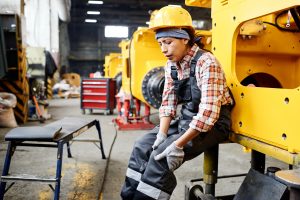 Keep in mind that any details about a business can influence the premium rates. Some factors are within your control, but others are not.
So, as a small business owner, you should weigh their options and decide what is best for your company.
How Do I Get Workers' Compensation Coverage?
There are three ways employers can obtain workers' comp coverage: through an insurer, being certified as self-insured, or making coverage arrangements through a state-licensed worker leasing company.
Insurance Carrier
You can purchase coverage from any insurer authorized to provide workers' compensation in your state. There are so many registered insurance companies, most of which sell policies through agents.
Usually, the agency handling your other business insurance will also help you place your workers' compensation insurance.
Assigned Risk Pool Insurance Plan
Suppose you want to purchase a workers' compensation policy but cannot find an insurer to write one for you. In such a case, you can secure coverage through your state's assigned risk plan.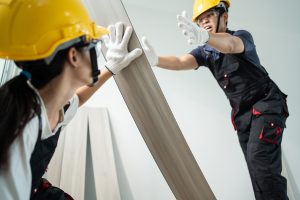 States establish assigned risk plans as a safety net for employers who cannot get insurance on the open market. All states except monopolistic states have given risk plans.
Every state has its laws determining how the plan is administered and financed.
Self-insurance
You can also qualify as a self-insured employer. But this option is only available for big corporations because the employer must have the resources to settle major claims and assure proper processing.
It would help if you were certified by the Workers' Compensation Division and had large security deposits to be self-insured.
What If I Do Not Comply?
An employer who knowingly fails to obtain insurance can incur penalties in the form of fines for noncompliance. The penalty for the first offense is usually two times the premium you would have paid for coverage, but the minimum differs across states.
If you keep hiring workers without insurance coverage, the Workers Compensation Act Employer Compliance Bureau may issue you a permanent court injunction forcing you to comply. Disobeying this injunction will have you summoned to court and be subject to more sanctions, including jail time.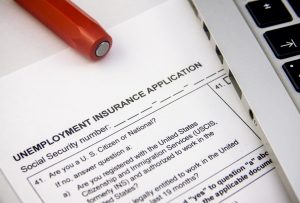 Also, noncomplying employers lose protections provided under the WCA. That means an employee who suffers injuries when the employer is uninsured can take legal action against the employer in civil court.
Lastly, the commission can issue a work-stop order on employers who are found to have expressively refused to make insurance coverage available for their employees. Their business operations are put on hold until they provide proof of coverage.
Bottom Line
Purchasing proper workers' comp insurance is a smart move to protect your business and employees. As an employer, it saves you from incurring legal and medical costs that would arise if sued by an injured employee.
Failure to have it can cost you a lot in penalties. So, protect yourself and your business today.
Contact an insurance carrier near you for guidance on what you need to ensure your business is properly covered.