Did you know that tinted windows protect passengers and drivers from the sun's damaging UV rays and excessive heat? Tints can also offer privacy when driving and deter unwanted attention from pedestrians and thieves.
Window tint, however, can impair a driver's vision and lead to auto accidents. For this reason, Georgia law limits the level of window tinting and where it is placed. Georgia window tint laws allow drivers to tint the windows of their cars while also preventing auto accidents.
Read this post to understand what is and is not permitted in Georgia before investing in a costly and potentially unsafe window tint.
What Is Window Tinting?
Window tinting is applying or spraying a dark film on a vehicle window. A window tint may differ regarding reflectivity and visible light transmission (VLT) based on the car owner's preferences.
VLT is the quantity of light that enters the window after applying the tint. Tint application is made by a professional either at an auto shop or at your home.
Which Windows Can You Tint in Georgia?
Tinted windows are prevalent in Georgia due to the hot and humid weather. However, not all car windows can be tinted.
Georgia window tint laws forbid tinting the front windscreen. That makes it safer to drive and prevents such accidents as rear-end collisions.
Rear windscreen
The rear windscreen can be tinted as much as 32% VLT. Georgia law permits a 3% variance that takes human error into account. The law also sets a 20% cap on light reflectance.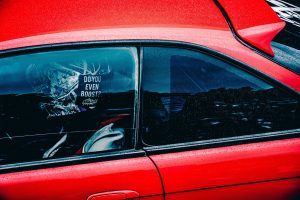 Light reflectance is the quantity of light that the tint reflects on other motorists. Thus, no other motorists are dazzled when the light reflects off your window tint.
Side and door windows
The side and door windows are subject to the same regulations as the rear windscreen. These windows can be tinted up to 32% VLT; however, light reflectance should not exceed 20%.
Georgia Window Tint Laws Exemptions
There are a few exceptions to Georgia window tint laws. These regulations do not apply to:
Front windscreen sun visors
Windscreen stickers and signs in the lower five inches of the driver's side or lower seven inches of the passenger's side.
Transparent objects on the top six inches of the windscreen
Lawfully mandated local, state, or federal stickers, including inspection stickers.
Police vehicles
Particular government vehicles
Vehicles owned by private detectives.
Drivers have a medical justification for window tint approved by their physician.
Also, there are different window tint laws for buses, vans, and limousines.
Got a Legal Issue? Let Us Help You Find An Attorney Near You
Vans, buses, and limos
Except for the driver's left and right-side windows, multipurpose passenger buses, vans, and limousines are exempt from Georgia window tint laws.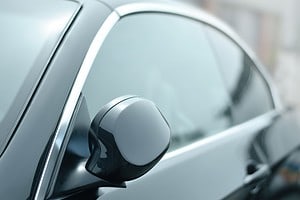 These windows are subject to a maximum tint of 32% VLT and 20% light reflectance. Buses are vehicles used by commuters, such as church buses, school buses, and other vehicles.
Headlight And Taillight Tint
According to Georgia state laws, you can only tint your headlights if they are factory-installed. This is reasonable, given that tinted headlights might hinder visibility at night.
Generally, you can tint a taillight provided the red light can be seen from 500 feet away, and a white light visibly illuminates the license plate from 50 feet away.
But it would be best to avoid tinting a taillight as it could make it harder for other motorists to see you stop. Poor visibility from behind can lead to rear-end crashes.
Penalties for Violating Georgia Window Tint Laws
It is a misdemeanor to violate Georgia window tint laws. A misdemeanor attracts up to $1,000 in fines and up to 12 months in prison.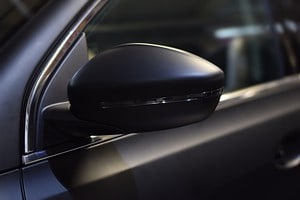 You will likely go to jail if your illegal window tint contributes to a car accident than if you were pulled over. Besides, your punishment may be more severe if you have previously broken window tint laws.
Contact a Georgia Car Accident Lawyer for Legal Assistance!
Car accidents can occur for various reasons, including view obstructions. If another vehicle's tinted windows have affected your vision leading to an accident, you can file a personal injury claim.
Legal Giant can connect you with a car accident lawyer near you to help with your claim. Our partner attorneys understand Georgia window tint laws and will help present a compelling case.
Contact us at (855) 740-5024 for a free, no-obligation consultation.