While the likes of Walmart and Amazon will always be in focus, collectively, small businesses remain the most powerful and influential piece of the American economy. In fact, approximately 99% of all businesses in the country qualify as small businesses employing almost half of the country's private workforce.
Unfortunately, these businesses have been the hardest hit part of the economy amid the COVID-19 pandemic. During the pandemic period, most of them have either struggled to survive or pivoted to survival mode. This has brought to the fore a big debate on how small businesses can survive the pandemic.
Despite the continued hardship, it appears like many small business owners aren't ready to give up on their ventures. Some people have even defied the norm and decided to start their own small businesses amid the pandemic.
So, the big question is; what measures can you take to ensure your small business survives through the pandemic? What do you need beyond the unwavering American spirit to ensure your small business will be part of the better days yet to come?
Read on to understand the economic and social impact of the pandemic and how you can plan for reopening.
COVID-19 Statement for Small Businesses
The Coronavirus pandemic has affected the economy, especially small and medium enterprises (SMEs), on both the supply and demand sides.
On the supply side, businesses have experienced a significant reduction in the supply of human labor as workers have been forced to quit to look after their loved ones. Measures to contain the spread of the virus by quarantines and lockdowns have also led to significant drops in capacity utilization.
Supply chains have been interrupted massively, leading to significant shortages of intermediate goods and parts, underlining a major COVID 19 statement for businesses.
The demand side has recorded a dramatic and sudden loss of demand for certain goods, which has affected the ability of some businesses to function due to severe liquidity shortages.
Furthermore, a significant number of consumers have experienced a loss of income and heightened uncertainty amid fear of contracting the virus. Some companies have laid off their workers since they can no longer pay their salaries.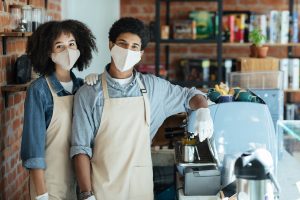 The pandemic has also affected some sectors such as transportation and tourism, contributing to reduced consumer confidence. Generally, small businesses are more vulnerable to social distancing measures than big companies.
The impact of the pandemic has spilled over to the financial markets leading to a sharp reduction of credit available to small businesses.
While this affects both small and large enterprises, small businesses are the most hit because of the high levels of vulnerability and relatively lower resilience.
Given the limited resources and existing obstacles in accessing financing, the period over which small businesses can survive the effects of the pandemic is more restricted than for big companies.
In fact, research shows that more than 50% of small businesses in the country operate with fewer than 15 days in buffer cash, and even some of the leading medium-sized enterprises have less than two months of cash reserves.
Therefore, there is a significant risk that some small businesses could go bankrupt if the COVID-19 containment measures remain in place for a long time.
Social Effects of the Pandemic
The coronavirus pandemic is much more than an economic problem. It is also a human and social crisis because it attacks societies to the core.
The pandemic is particularly detrimental to those living in poverty-stricken areas, youth, persons with disabilities, and indigenous people. Evidence suggests that the pandemic's social, health, and economic impacts are being borne disproportionately by poor Americans.
For instance, homeless people are highly exposed to the dangers of the virus because they cannot safely shelter in a good place. Furthermore, immigrants, refugees, and people without access to basic needs are more prone to the virus than other Americans.
Seniors, especially those with chronic health conditions such as diabetes, hypertension, and cardiovascular disease, are highly susceptible to the risk of infection. This group of people is at an increased risk of succumbing to the virus because they cannot support themselves in isolation.
Although social distancing is critical to the containment of the virus, it can lead to social isolation if not implemented properly.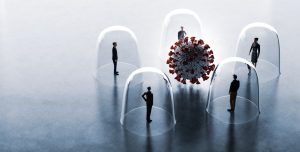 There is also a perceived myth that COVID-19 is a disease of older people which has not done anything to help the situation because some people believe that seniors are weak, unimportant, and a big burden to society.
Such age-based discrimination has manifested in the provision of essential services because treatment of older people may be perceived to be less important than the treatment of younger persons.
Social and physical distancing measures put in place in many states have also curtailed social events such as family gatherings, team building, picnics, and sports. The sporting fraternity has been the hardest hit because most sports activities are now happening without fans.
To safeguard the health of athletes, a significant number of major sporting events at the international, national, and regional levels were either canceled or postponed. For instance, the Olympics and Paralympics were delayed for the first time in their history and only took place last year under tight health safety measures.
Other sports activities ranging from marathons to athletics, football tournaments, basketball games, ice hockey, skiing, sailing, handball, wrestling, and many more have been forced to reschedule and only admit a limited number of fans to the matches. This is only a summary of the social impact of a pandemic.
How to Plan for Reopening After COVID
Although it has been a bumpy ride for the past two years for small businesses in the country, all hope is not gone. COVID-19 vaccine uptake has increased, and scientists believe that the coronavirus pandemic has transitioned from being a pandemic to an epidemic.
All indicators point to the fact that we could be back to our normal lifestyle sooner. Most of the restrictions that had been put in place have been removed, and business is starting to pick up.
So, what can you do to prepare your small business for full reopening? We highlight some of the essential things you need to do:
1. Learn
There is a lot of information out there about the pandemic and how to protect your business from its effects. However, not all of it is correct.
So, as you plan for reopening, only focus on digesting information from the most reputable and reliable sources to find the right guidance for your small business.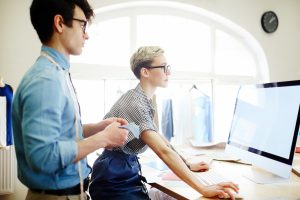 Government agencies and public health organizations are some of the best places to find accurate and up-to-date information for small businesses planning to reopen fully.
We recommend checking out the official CDC website and the U.S Department of Health & Human Services for the latest information. You can also download Youtoube videos that focus on growing small business and implement tips shared.
2. Monitor Employee Health
You need to do everything possible to ensure your employees are physically, emotionally, and mentally healthy to make the process of reopening after COVID smooth. If possible, deploy contact tracing technologies to help track and prevent the spread of the virus.
Some businesses are installing smart devices that screen workers for high temperatures, with some even being integrated into elevators and door handles.
Got a Legal Issue? Let Us Help You Find An Attorney Near You
Focus more on mental wellbeing because some people have lost their loved ones to the virus and are struggling with it. Therefore, you need to find ways to keep your workforce motivated and engaged.
Schedule more 1:1 meetings to touch base with your employees and see if they need anything. You need to be more empathetic and try to keep everyone in the right frame of mind without reminding them so much about the effect of the pandemic on the economy and how your business is struggling.
Remember that crisis affects everyone in different ways, especially when it results in a relatively long-term disconnect from ordinary life. So, you need to assure everyone that you are all in this together.
3. Rethink Your Business Policies
We are operating in unprecedented times, and you cannot afford to remain rigid. Your current business policies may need to be changed a little bit to respond to the pandemic.
For instance, your health and safety policy may need to be re-looked at to prioritize employee health and safety. Maybe you can reiterate sick time and paid time off work to discourage them from coming to work if they feel ill.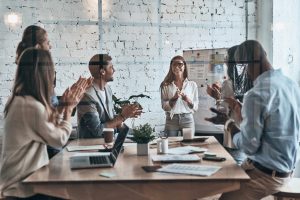 Job losses and redundancies are other things that you may be trying to avoid during this time. So, ensure your policies and practices are fully up-to-date and compliant with legislation. Should you be forced to declare some positions redundant, make sure you have plans in place to avoid facing an employment tribunal.
4. Maintain Strict Hygiene and Social Distancing Measures
Instituting new hygiene protocols is critical when planning how to reopen your small business safely during the pandemic. Find ways of reminding your employees to clean and disinfect their hands regularly.
All high-touch surfaces such as door knobs/handles, office telephone, windows, and work desk surfaces must also be cleaned and disinfected regularly. Hand sanitizers and alcohol-based wipes should also be easily accessible throughout the workplace.
For social distancing, remind your employees and customers that staying at least two meters away from other people can help break the chain of transmission.
Limit the number of employees that work in close proximity with others and ensure all areas that are normally congested are redesigned to accommodate a specific number of people at any given time.
5. Communicate
This is the right time to create and maintain open communication between you, your employees, and customers. Make sure everyone is updated with everything that is happening in the business.
Reassure everyone that your primary objective is to keep everyone safe and operate safely while adhering strictly to the set rules. Use multiple communication channels to ensure your message is received widely and reinforced.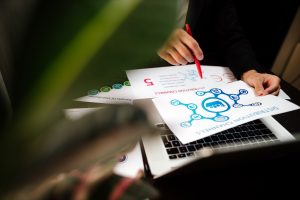 Find ways of demonstrating that customer interests are a priority and address any concerns they may have directly.
To make your work easier, create and share a FAQs document answering specific questions around your health and safety practices, supply chain, potential risks to your employees and customers, and how you intend to mitigate these risks.
6. Maintain Transparency and Honesty
During difficult times, your customers understand and expect your small business to operate differently. However, they still expect transparency, honesty, integrity, and timely updates from you.
With time, they will expect you to fully adapt to the situation and start to operate normally. So, patience for long deliveries and poor customer service will eventually run out if you are not providing your usual high-quality products/services and excellent customer service.
At this time, you must be mindful of your customers' needs and wants more than ever. Everything is highly unpredictable, and any slight change in the quality of service delivered can force them to look elsewhere.
Ensure you talk to them about what they want and need from your business. Take the feedback into consideration and adapt accordingly. This is the key to reopening a business during these difficult times.
Coronavirus Business Solutions
The truth is that many businesses are going to survive the pandemic, but it is going to take a lot more than government-driven financial aid to achieve the goal. The real work starts behind the scenes with business owners developing creative solutions tailored to suit their needs.
From overhauling your current business operations to creating a new financial strategy, the business solutions you create could drive your small business successfully into the post-pandemic era.
So, what are some of the coronavirus business solutions that small business owners have invested in so far? Let us find out:
1. Taking Business Online
The pandemic led to the closure of all non-essential businesses at one point. Things such as cinemas, retail shops, museums, and even theatres couldn't operate normally.
As a result, businesses that had never considered moving online were forced to go digital or count losses. With fewer individuals able to leave their homes and spend money in physical business premises, consumer habits have changed massively.
Online shopping and e-commerce have become the primary method of purchasing goods for many consumers across the country and world. So, if you haven't moved your business online, you could be losing a lot of money without knowing it. Consider hiring a low cost website design company to help you in moving your business online.
2. Reconfigure Business Budgets for Present and Future
Grants and loans from the state and the federal government can help your business stay afloat for now, but real future financial gains depend massively on a healthy business budget.
Now is the perfect time to reassess your business budget, cut unnecessary expenses, and identify new revenue streams.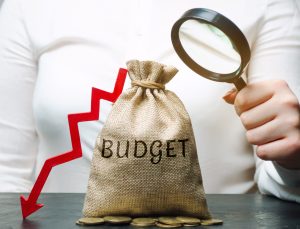 You should consider finding low-cost marketing opportunities with relatively big results, cut subscriptions, pay off smaller debts as quickly as possible, search for vendors that could save you money, and even scale back on employee overtime.
You can also put a temporary hold on company retreats, tap into financial forecasting, and use services such as invoice factoring to improve cash flow in your business.
3. Rebrand Your Company Image
With relatively fewer resources to fall back on and a smaller client network, small businesses across the country have suffered more from the pandemic than established big companies. One strategy for keeping up with the big multinationals is rebranding.
Consider changing your company image or offering new products/services that respond better to new trends to distinguish yourself from the competition.
Rebranding offers you an opportunity to use psychological tactics to your advantage. A good rebranding strategy helps change customers' perception of your small business while encouraging them to engage with it more.
What Is Next?
The world is still reeling from the impact of the pandemic, with countries cautiously opening up. However, the past two years have forced many businesses, both small and big, to scrutinize their business operations and policies to remain afloat.
While it is quite difficult to know for sure when the pandemic will end, it is possible to draw on the business lessons of the past two years and identify opportunities for improvement.
Small businesses need to work on a clear and highly focused strategy on responding to the pandemic while simultaneously building to thrive in the post-pandemic world.
We hope you found this article helpful and you are now fully prepared to reopen your small business and take it to the next level!