If you have been involved in a car accident and you feel the other driver is at fault, you need to do everything possible to gather sufficient evidence that will make your case strong. After all, you were the subject in the said accident and witnessed everything that happened. Therefore, even your car accident attorney will most likely rely on your statement to file a claim.
The most crucial thing you need to keep in mind is that the more documentation you have to support your claim, the more likely you will receive fair compensation for damages suffered.
However, it is also important to note that not all evidence is applicable to your case. Depending on the circumstances surrounding your accident, you may not collect all the evidence you need.
The bottom line is that the more evidence you can collect, the better.
In this post, we discuss the most critical pieces of evidence you will need to prove your car accident case.  Read on to learn more.
Understanding the Burden of Proof in Car Accident Cases
As the plaintiff in the case, the burden of proof falls on you. It means you need to prove that the other driver was acting negligently and unreasonably at the time of the crash.
You must also prove that their irresponsible behavior is what caused the accident and your injuries and other damages occurred as a result of the accident.
This is where a car accident attorney can be really helpful. The lawyer will work closely with you to gather all the necessary evidence that they will use to establish the legitimacy of your claim. They will also sort through the various pieces of evidence to determine what is most useful in court and settlement negotiations.
For instance, many of us tend to think that police reports are helpful, but they may not be admissible in court in some cases. But the report can be beneficial when negotiating for a settlement amount with your insurance company.
Types of Evidence in Car Accident Cases
Given that the burden of proof lies squarely on your shoulders, you need to be smart enough when gathering your evidence.
Below are some crucial pieces of evidence that can help you to prove your car accident case:
1. Photographs/Videos
Some of the most critical evidence you need to collect if you have been involved in a car accident are photographs or videos showing the extent of damage that the crash has caused.
Ensure you take clear photos of the damage caused to your car as well as the damage to the other vehicle.
Take clear photographs of any physical injuries you may have suffered, and be sure to document your healing process. The medical documents will form a critical piece of evidence.
If you cannot take photographs yourself, look around to see if there are any business premises with surveillance cameras and request a copy of the footage that recorded the accident.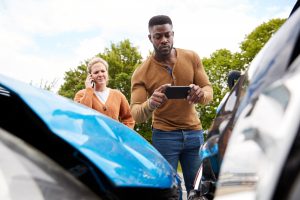 You should also remember to photograph any road conditions that may have contributed to the accident. One of your photographs or videos should capture the whole accident scene with the exact position of each car.
Take as many pictures as possible because you can never have enough photos. You can always delete or remove the unnecessary images once everything is over and the matter is fully settled, but you never know what your accident attorney will find beneficial to your case.
2. Witness Testimony
If there is a disagreement over who is at fault during the accident, it can always boil down to your word versus their word. In such a case, your side of the story can be pretty difficult to prove in court without clear and sufficient evidence.
Got a Legal Issue? Let Us Help You Find An Attorney Near You
That is why it is essential to find a few third-party witnesses who can testify in court on your behalf. The truth is that finding someone willing to testify on your behalf isn't easy, especially if you are injured.
But once you have contacted the police and emergency medical services, try to approach the bystanders and onlookers who witnessed the accident happen and request their statement.
If you can get one of them to record a statement and be willing to testify on your behalf in court, then you are safe.
Exchange contact information with the witness and keep in touch with them until the day of the testimony. You should also consider hiring an experienced car accident attorney who knows how to sort through the evidence and question witnesses.
3. Police Report
As law enforcing officers, police enjoy a relatively higher standard of reputability as witnesses in a court. This is what makes the police report in a car crash so important.
When you are involved in an accident, the first thing you need to do is call the police. Upon arriving at the accident scene, the police officer will assess everything thoroughly and note all aspects surrounding the crash.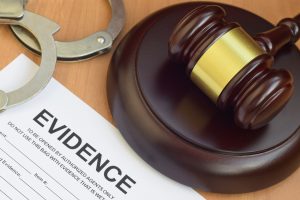 The report will state the exact location where the accident happened, the type of cars involved in the accident and their plate numbers, any casualties or injuries, interview with witnesses, and a summary of the discussion with the parties involved.
When fully compiled, the police report provides a critical piece of evidence to strengthen your car accident case. You may even have an opportunity to directly give your testimony to the police officer to ensure that they capture everything about the accident in the report.
4. Personal Notes and Medical Records
If you are seeking compensation for physical and mental injuries you suffered as a result of the accident, you will need proper documentation from a qualified doctor about the injuries. This is the primary reason why you need to seek medical attention as soon as possible.
Once you have been treated, make sure you keep all records that your physician gives you, including prescriptions, test orders, visit summaries, and other vital documents.  You should also keep all receipts of payments to show how much you spend on hospital bills.
Keep a journal of your entire medical recovery process and how much pain you experience on a day-to-day basis. This can be helpful when seeking compensation for pain and suffering.
5. Expert Witness Testimony
Sometimes, a testimony from one of the people who witnessed the accident may not be sufficient to convince the jury that the other driver acted negligently. This is where an expert witness comes into play.
When you hire a car accident attorney to represent you in court, they will have a trusted team of expert witnesses that can be called upon to testify and even perform accident reconstruction.
Expert witnesses can also be medical experts who testify to the injuries you suffered after the accident and the legitimacy of your personal injury claim.
Legal Giant Can Help You Find an Experienced Car Accident Attorney
At Legal Giant, we understand the physical and financial consequences of a car accident, no matter who is at fault.
So, if you or your loved one has been involved in a car accident, you need to work with a car accident lawyer who will help you seek fair compensation for damages suffered.
Our team of experienced attorneys is always ready to fight for your rights and help you recover the rightful compensation you deserve. Talk to us today to schedule a free, no-obligation consultation.