According to the Centers for Disease Control and Prevention (CDC), Washington spends approximately $19.5 billion on health coverage for disabilities every year. That translates to 37% of Washington's healthcare costs.
The most common are cognitive and mobility disabilities, each affecting 10% of Washington residents. Hearing conditions and independent living follow closely behind, affecting six percent and five percent of adults, respectively.
Fortunately, there are plenty of Washington social services supporting people with disability. The Washington Division of Vocational Rehabilitation helps people with disabilities find and train for employment.
Another great program, which we'll focus on in this article, is Social Security Disability Insurance (SSDI). SSDI provides financial support and benefits to people living with disabilities in Washington.
Let's dig deeper into social security local to Washington and the eligibility criteria for these benefits.
How Do I Qualify for Social Security Benefits in Washington?
Persons living with disabilities in Washington can apply for Social Security disability (SSD) benefits and receive reimbursement if they meet the criteria. There are several qualifications that one must meet in Washington state.
First, SSDI benefits are limited to individuals who have worked long enough to earn the set number of work credits. A person can get up to four credits per year, based on how much they make.
To qualify for SSDI, you need 40 work credits, half earned from your last ten years of employment.
The other requirement a disabled resident must meet is that their disability must be 'severe.' So, you need medical evidence to show proof of your disability.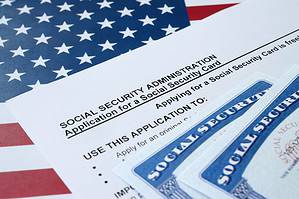 Your disability must meet the Washington Social Security Administration (SSA) rules, which necessitate your disability to be severe enough to render you unable to work or result in death. The disability must also be long-term and last more than a year.
An applicant also needs to meet income guidelines for SSDI. However, the limits for eligible income for SSI are higher than those set for Supplemental Security Income (SSI) benefits.
The good thing is that SSDI only checks for a person's income earned from employment or self-employment. It does not consider other forms of income, such as the spouse's salary or assets.
How Do I Apply for Social Security Benefits in Washington?
Applications for SSDI benefits in Washington can be submitted online, in person, or on the phone. You may visit SSA.gov to apply for Washington SSDI benefits online.
Alternatively, you can send your application to one of the 22 Washington SSA field offices by mail. You may also visit the offices in person or call 1-800-772-1213 to apply.
If you need help with your application, ask a reliable family member or acquaintance to help. You can also ask for guidance when applying by phone or visiting your nearest field office.
Before applying, remember to have your Washington Social Security number and the Social Security numbers of your spouse or dependent children, if any. Attach your bank account information, work and employer information, and proof of your medical condition.
What Happens After I Apply for Social Security Benefits in Washington?
All SSDI applications are sent to the Washington Disability Determination Services from the Washington State Department of Social and Health Services. The DDS is responsible for determining the eligibility of each applicant.
To begin with, the DDS will review the application to ensure the applicant meets the basic qualifications for SSDI. If you do, the agency will send your medical records to your doctor for their opinion.
Your physician will fill out a questionnaire regarding your condition and its impact on your capacity to work. You must follow up with your physician, so they complete the questionnaire on time.
Got a Legal Issue? Let Us Help You Find An Attorney Near You
The DDS will further seek the opinion of vocational experts. These professionals understand job requirements and how disabling conditions limit a person's ability to complete job-related tasks.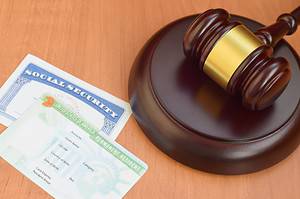 The vocational experts will look at your work history and medical records to determine the kind of jobs that your disability can accommodate.
Once all this is done, the DDS will decide whether to classify you as disabled. If deemed not disabled, your application will not be approved.
You can opt to file an appeal if you wish to proceed with the claims process. If eventually termed disabled, you will start receiving benefits within a few months.
Appealing a Denial for Social Security Benefits in Washington
Washington residents can rightfully appeal a denied disability claim. The Washington DDS receives and addresses all appeals for SSDI benefits.
The first step of the appeals process is to Request for Reconsideration after the first denial. Here, you're asking someone other than the original reviewer to evaluate your application.
If your reconsideration is denied, you can request a hearing by an administrative law judge. Having a lawyer at this point is crucial because they understand how to present your case most favorably.
You may request the SSA's Appeals Council to review it if it is still denied. And if you receive a denial from all of the above, you may file a lawsuit in federal court.
Today, it's possible to request any step of the appeals process online except for a federal court review. You may also download appeals forms on the SSA website or ask for the forms by calling 1-800-772-1213.
You may also contact a Washington SSA field office near you to request the forms.
Washington SSDI Hearing Wait Times & Average Approval Rate
There are three official hearing offices in Washington. The Office of Disability Adjudication and Review (ODAR) oversees SSD and SSI hearings.
The average wait time for an SSD appeal hearing in Washington is 15 months. The average approval rate at the hearing stage in Washington is 49.5%, slightly lower than the national average of 53.9%.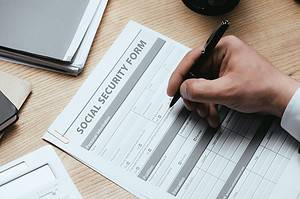 That means Washington is slightly behind the national average at the Hearing level. These wait times and average approval rates only reveal the importance of having a knowledgeable Washington SSDI attorney to walk you through the process.
In fact, research by the Government Accountability Office showed that applicant with legal counsel has a 73% chance of being approved for benefits compared to a 37% success rate for those who do it alone.
How Do I Contact the Washington Social Security Office Near Me?
There are 22 Social Security Field Offices where residents of Washington can seek assistance with SSD.
If you're applying for benefits or have filed for disability and need any form of assistance, contact the Washington Social Security office near you from the list below.
Field Office
Address
Phone Number
Bellevue Office
636 120th Ave Ne
Bellevue WA 98005

1-800-772-1213
Bellingham Office
710 Alabama St
Bellingham WA 98225

1-800-772-1213
Burien Office
151 SW 156 Street Burien WA 98166
1-800-772-1213
Centralia Office
1821 Cooks Hill Rd
Centralia WA 98531

1-800-772-1213
Everett Office
3809 Broadway
Everett WA 98201

1-800-772-1213
Hoquiam Office
820 Simpson Ave Hoquiam WA 98550
1-800-772-1213
Kennewick Office
8131 W Klamath Ct
Kennewick WA 99336

1-800-772-1213
Lynnwood Office
18905 33rd Ave W
Lynnwood WA 98036

1-800-772-1213
Mt Vernon Office
710 E College Way
Mt Vernon WA 98273

1-800-772-1213
Olympia Office
402 Yauger Way SW Olympia WA 98502
1-800-772-1213
Port Angeles Office
138 W First Street Port Angeles WA 98362
1-800-772-1213
Puyallup Office
811 South Hill Park Dr
Puyallup WA 98373

1-800-772-1213
Seattle Office
915 2nd Ave
Seattle WA 98174

1-800-772-1213
Seattle Office
675 S Lane St
Seattle WA 98104

1-800-772-1213
Seattle Office
13510 Aurora Ave N
Seattle WA 98133

1-800-772-1213
Silverdale Office
9594 Mickelberry Rd Nw
Silverdale WA 98383

1-800-772-1213
Spokane Office
714 N Ironbridge Way
Spokane WA 99202

1-800-772-1213
Tacoma Office
2608 S 47th St
Tacoma WA 98409

1-800-772-1213
Vancouver Office
6615 E Fourth Pln Blvd
Vancouver WA 98661

1-800-772-1213
Walla Walla Office
405 W Main Street
Walla Walla WA 99362

1-800-772-1213
Wenatchee Office
301 Yakima Street
Wenatchee WA 98801

1-800-772-1213
Yakima Office
801 Fruitvale Blvd
Yakima WA 98902

1-800-772-1213
Get Legal Help Applying for Social Security Benefits in Washington
Social Disability Insurance application is not a simple process. An experienced Washington SSD lawyer can assist you in completing an error-free application and increase your chances of approval for benefits.
Your attorney can also help you navigate the appeals process if your application is denied. Contact us for a free, no-obligation with a Washington SSDI attorney today.