Sometimes, bad things happen to good people, and being involved in a car accident is one of them. Many things can happen in a split of a second when you are involved in a car crash.
You have been injured, your vehicle damaged, and you don't know what to do next.  Typically, the first thing you are supposed to do is to take the details of the other diver and seek medical attention immediately.
Once you have been treated for any injuries you may have suffered, the next step should be to hire a car accident attorney to take over the case and help you fight for compensation.
Unfortunately, hiring an auto accident lawyer who will be fully dedicated to your case and ensure you get your rightful compensation can be challenging.
Ideally, you should hire an attorney that is licensed, experienced, has a track record of success relating to car accidents, and has an established network of medical professionals and investigators to support your case.
Read on to discover the key qualities to look for in a professional car accident attorney. We are here to make your hiring process easy so you can focus on recovery.
1. Professionalism
The most critical quality to look for in a car accident attorney is professionalism. You need to hire someone who will carry out his/her duties with the utmost professionalism to avoid jeopardizing your case.
The attorney should always be available to answer your questions. He/she must also ensure that the legal services offered are in line with the laws and best practices of the state where you live or where the accident happened.
You want your attorney to be available for all meetings and tell you the truth about your case while setting realistic expectations.
2. Legal Experience
You should only consider hiring an attorney with at least ten years of experience handling car accident cases. Junior attorneys may lack the requisite experience needed to win your case, especially if it is complicated.
An experienced car accident attorney has most likely seen your type of car accident many times and knows how to approach it.
For instance, if you were involved in a hit and run, they will know exactly how to approach the situation so that the other driver is held responsible.
The other knowledge that is unique to auto accident cases is the state's traffic laws where the crash happened. Your attorney should understand the relevant traffic laws relating to unsafe road conditions, weather conditions, distracted drivers, DUI, and overturned vehicles.
An experienced attorney will know the history of similar accident cases and the outcomes for each one of them. He/she can use the outcome of past cases to argue your case during trial.
3. Compassion
Many people tend to focus on experience and cost while hiring an attorney, but it is equally important to consider the lawyer's personality.
Does the attorney genuinely seem to care about your case?  Does he/she have a likable and welcoming personality? Is he/she understanding and friendly?
Keep in mind that you are going to spend a lot of time with your attorney. Therefore, you need to hire someone with whom you are comfortable working with.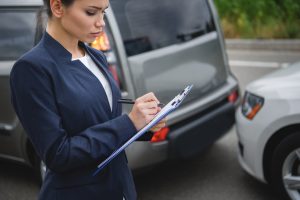 Find someone who can empower you to make the big decisions without fear.  He/she should handle the little details that you cannot handle and allow you more time to recover and pick up your life.
You understandably have many questions regarding your lost income, hospital bills, health insurance forms, and compensation. A compassionate attorney will take the time to explain everything to you and guide you through the claims process.
We Help Our Clients with Their Legal Needs by Connecting Them with Skilled Attorneys
4. Upfront Fees
In most cases, car accident cases are taken on a contingency fee basis. It means that your car accident attorney shouldn't demand any payment upfront.
After the initial case review, he/she will determine whether your case is good or not. If he/she decides that your case is good, they won't be concerned about payment until they win your case and compensation is awarded.
Since most car accident settlements are paid by big auto insurance companies, they don't have to worry about not being paid.
In fact, experienced auto accident attorneys know that most people don't have huge sums of money that may be needed to properly litigate a car accident case. Plus, they appreciate the fact that you have come to see them when you are already hurt from the accident.
It means you may take some time off work and won't be able to generate an income. Any car accident lawyer who requests you to pay an upfront fee may not be the right match for you.
5. Record of Success of the Car Accident Attorney
Reputation is critical in the area of personal injury. Keep in mind that your insurance company will do everything possible to pay the least amount of money on your case.
They will have a team of negotiators who will always want to prolong negotiations and ensure the insurer pays the minimum amount possible.
Therefore, you need to hire an attorney with a track record of winning good settlement amounts.  The attorney will know all the tactics used by insurance companies to lower compensation amounts and develop an effective winning strategy.
6. Integrity
Not all car accident attorneys are willing to put in the time and effort required to give your case exceptional legal representation.
Fortunately, there are a few ways you can use to assess an attorney's honesty and dedication before you hire them. This will mostly happen during the initial consultation stage.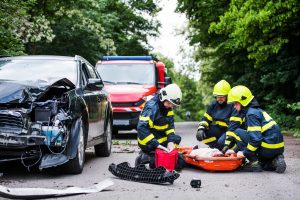 Ask the right question and digest the responses given deeply. For instance, an attorney with integrity will be open to discussing all possible outcomes but won't guarantee any outcomes because legal proceedings can be unpredictable.
A reputable and trustworthy attorney will be fully transparent about their fee structure from the start and won't offer to resolve your case at a low flat rate.  They will fully understand that their compensation depends on the settlement amount they win.
7. Availability
Lastly, it is critical to hire an attorney who will always be available whenever you require his/her services. The attorney should have an office close to you to aid accessibility and availability whenever needed.
It is important to ensure the car accident lawyer has a strong and experienced support staff that is always available to update you on the progress of your case.
You should also ensure the attorney doesn't have a long list of clients, leading to a lack of adequate time and resources to serve you.
Injured in a Car Accident? Talk to Us Today for Legal Assistance!
Have you or your loved one been involved in a car accident and want to hire a car accident attorney? Legal Giant is here for you.
We have a team of experienced car accident attorneys who possess all of the above qualities, ready to fight for your rights. Our attorneys are highly experienced in litigating car accident attorneys and will win you the rightful compensation you deserve.
Call us today to schedule your free, no-obligation case review!