If you have been involved in a car accident, you need to hire a motor vehicle accident lawyer to represent you. Submitting an accident claim successfully is usually a fact-oriented process because the insurance company wasn't present at the accident scene.
Therefore, the insurance provider will need as much information as possible to evaluate your claim and make an informed decision. If you sustained injuries, the success of your personal injury lawsuit will also depend on your ability to provide concrete evidence.
So, what documents should you hand to your motor vehicle accident attorney to help strengthen your claim? Read on to find out.
1. Insurance Policy
If you have a car insurance policy, your lawyer will want to see a copy of it to establish the type of insurance recovery you may be entitled to.
But don't panic if you don't have a copy of your policy because your attorney can obtain one from your insurance company with your approval.
2. Copy of Police Report
Whenever an accident happens, traffic cops will always come to the scene.  The officer at the scene is supposed to come up with an incident report capturing what transpired before, during, and after the accident.
He/she will give an opinion on the actual cause of the accident, a sketch indicating where other pedestrians and cars were at the scene of the accident, and whether there was a violation of traffic rules.
The police report will also highlight the driver who was at fault during the accident and his/her insurance information. Sometimes, it can be quite challenging to track down the insurance provider if you don't possess any legal documents where this information has been provided.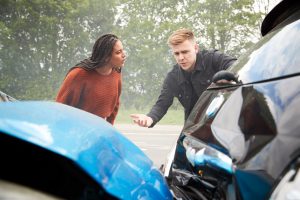 Although the accident report may change with time, the preliminary report may provide your attorney with a good foundation for starting the investigations.
To get a copy of the police report, you will need the details of the accident date, the exact location where it happened, the drivers involved, and details of the traffic police who came to the scene.
3. Witness Statements
In most cases, witness statements will be provided within the police report. However, witness statements can also be taken by insurance companies or the motorists involved in the accident.
So, if you are involved in an accident and want to keep a record of your own witness statements, you should consider using your phone to record them right at the scene of the accident.
Keep in mind that any witness statements, no matter where provided, and how they were recorded, can help establish who was at fault.
4. Information Exchanged at the Scene
One of the most crucial steps to take after contacting the police is to exchange information with the other driver at the scene of the accident.
Typically, motorists will exchange insurance information and their official names, phone numbers, driver's license numbers, and addresses.
In some cases, it may be appropriate to share social media contact information and email addresses in place of physical addresses.
Whatever information you exchange with the other driver, make sure you keep it safe and share it with your motor vehicle accident lawyer.
5. Proof of Premium Payment
Your attorney will also need proof that you have been paying your auto insurance premiums. Typically, your insurance provider will send you statements or bills, notifying you that your monthly premium is due.
It is important to keep the correspondences safe because that is the only way you can prove that you have been paying your premiums.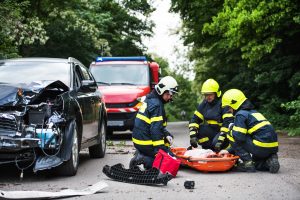 Giving your attorney a copy of the correspondences plus any other proof of payment, such as receipts, can help to prove that your auto insurance policy is active and "paid up."
6. Tickets and Fines Issued At the Accident Scene
If you or the other driver was fined or given any traffic ticket during the accident, then you should let your lawyer know about it. For instance, you might have been fined for driving under the influence or failure to yield.
In such cases, the fine and ticket can be used against you even if you were not at fault during the accident. Notifying your attorney of any fines or tickets issued will help him/her know how to build your case and show that you were not at fault.
7. Medical Costs and Records
Ensure you keep all of your medical records and bills even if you suffered a minor injury. Keep all the receipts for your hospital expenses, especially the out-of-pocket expenses you might have incurred.
The medical records will serve as evidence that you sought treatment after the accident, and you need to be compensated accordingly.  They will also show whether you had any other underlying medical conditions before the accident.
If your health deteriorated after the accident, it could influence your personal injury claim and the amount of compensation you receive.
8. Photographs
Photographs can help establish a visual representation of what happened during the accident and the level of damage sustained.
Photographs can be taken by the drivers involved in the accident, insurance company agents, emergency responders, tow truck drivers, or even the auto repair shop where your car is being repaired.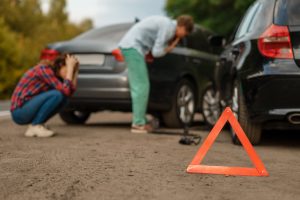 It is always critical to take pictures of the accident with your mobile phone and show them to your attorney. Focus on the entire scene of the accident to help your lawyer fully understand what transpired during the incident.
Besides helping your motor vehicle accident lawyer understand the facts surrounding the accident, quality photographs will also help the insurance adjuster evaluate your claim accordingly.
9. Pay Records
If you have lost time from your work as a result of the accident, make sure you share your pay records with the attorney so that he/she can pursue compensation for lost wages. To do so, your lawyer will need to calculate how much you have lost due to the accident.
Having proof of your pre-crash earnings and your post-crash earnings will help him/her calculate how much you have lost.
Have You Been Involved in a Car Accident? Talk to a Motor vehicle Accident Lawyer Today!
Gathering documents and ensuring everything is in order after any car accident is critical in your case, but it is only the first step of the entire process.
Hiring an experienced motor vehicle accident lawyer will help you understand your case better and know what to do next.
Contact us today to speak to an experienced car accident attorney who will take the burden off your shoulders so you can focus on recovery and healing.  We are here to help you!
Disclaimer: Legal Giant is not a law firm and does not offer legal advice. We connect you with a network of attorneys applicable to your legal needs. The information provided on this site is not legal advice, does not constitute a lawyer referral service, and no attorney-client or confidential relationship is or will be formed by use of the site.