Five of the leading tampon brands in the U.S. have been found to contain detectable quantities of polyfluoroalkyl substances (PFAS). The so-called 'forever chemicals' have been discovered in many things, ranging from drinking water to firefighting foam.
These chemicals are associated with severe health problems like liver damage, immune system damage, cancer, and birth abnormalities.
Exposure to PFAS found in tampons for an extended period may have serious health effects. For this reason, consumers are entitled to pursue a product liability lawsuit to recover their damages.
Legal Giant connects you with attorneys who offer free initial consultations for people considering filing a PFAS lawsuit against those responsible for their injuries.
Our network features some of the best product liability lawyers to help you recover compensation for your damages.
What Is PFAS?
Polyfluoroalkyl substances (PFAS) are synthetic compounds often used in various products. The water-repellent and waterproof properties of PFAS make them perfect for waterproofing, cosmetics, stain resistance, heat resistance, and grease/oil resistance.
The most popular way to use PFAS compounds is as fluoropolymer coatings on a variety of goods that benefit from the qualities described above, including:
Food Packaging
Non-stick cooking surfaces
Adhesives
Furniture
Clothing
Wire insulation
Firefighting foam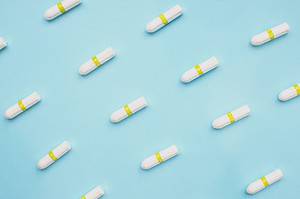 Perfluorooctane sulfonic acid (PFOS) and Perfluorooctanoic acid (PFOA) are the most prevalent PFAS. There has been limited research on perfluorononanoic acid (PFNA) and perfluorohexane sulfonic acid (PFHxS), yet they pose a serious concern.
The exceptionally resistant properties of PFAS make them exceedingly stubborn, and they degrade slowly over time, hence why they are nicknamed "forever chemicals."
Because of this, PFAS has spread widely across the ecosystem, affecting soil, water, air, and even plant life. Consequently, PFAS has even made its way into human bodies, which can have highly adverse health effects.
Testing Shows Signs of PFAS in Five Tampon Brands
Mammavation, a well-known environmental health blog, in collaboration with EHN.org, submitted 23 tampon products to the Environmental Protection Agency (EPA)-certified lab for testing. Out of these, five well-known brands of tampons tested positive for PFAS chemicals.
The EPA laboratory discovered that five top tampon brands have traceable fluorine levels ranging from 19 parts per million (ppm) to 28 ppm, indicating the presence of PFAS chemicals. PFAS compounds have been detected in these brands:
Maxim Hygiene Organic Cotton Cardboard Applicator Tampons
OrganYc Complete Protection Tampons (made with organic cotton)
Playtex SPORT Regular & Super Tampons
Tampax Cardboard Applicator Unscented Tampons
Up & Up (Target Brand) Regular Tampons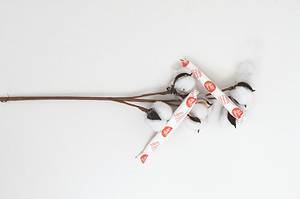 Pete Myers, the chief scientist at Environmental Health Sciences, which broadcasts Environmental Health News, reviewed the collaboration between Mammavation and EHN.org to test the tampons.
We Help Our Clients with Their Legal Needs by Connecting Them with Skilled Attorneys
EHN.org provided financial assistance for the tampon testing after thorough research into the presence of PFAS in various items, including cosmetics and sportswear.
Detecting Fluorine in Tampons and the Indication of PFAS Presence
The test did not specifically identify and isolate PFAS. However, it found alarmingly high quantities of fluorine, a chemical substance that is a fundamental component of the chemical composition of PFAS.
Since they are made up of some of the strongest fluorine-carbon bonds known to nature, PFAS compounds are resistant to breaking and have water-proof properties. The discovery of these fluorine molecules is alarming since it suggests that PFAS is in significant amounts.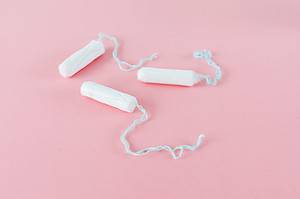 According to Scott Belcher, an Associate Professor at North Carolina State University, Polytetrafluoroethylene (PTFE), commonly known as Teflon, is a typical form of PFAS that is not easily detectable but whose presence can be demonstrated by the total organic fluorine content in the five tampon brands. Simply put, organic fluorine is the smoke, while PFAS is the fire.
How Did PFAS Get Into Tampons?
Even more concerning is the possibility that hazardous compounds like phthalates and bisphenol-A are present in addition to fluorine (BPA).
Based on the 19–28 ppm of organic fluorine discovered in the five brands of tampons, experts say that PFAS may have gotten into the tampons accidentally through contamination in the supply chain. The following scenarios can result in this PFAS contamination:
Exposure to fluorinated plastic in the supply chain
Packaging with fluorine
Exposure to fluorinated fiberglass
Moving goods in fluorinated storage containers
Use of fluorinated lubricants near machinery
Use of fluorinated sprays on machinery
Contamination originating in raw materials
Health Problems Caused by PFAS Exposure
When PFAS gets into the body by ingestion (drinking water), inhalation, or skin contact, it accumulates and does not leave or degrade. As it builds up in your body, it actively harms you by interfering with several organ processes.
Numerous research has looked at the impacts of exposure to PFAS, and while many have produced varied findings, they have all come to the same conclusion: PFAS exposure has serious adverse effects on health.
The following are some of the health problems brought on by PFAS exposure:
Cardiovascular disease
Reduced response to vaccines
Lower cholesterol levels
Lower immunity
Reduced fertility
Leukemia
Kidney cancer
Breast cancer
Disrupted thyroid functioning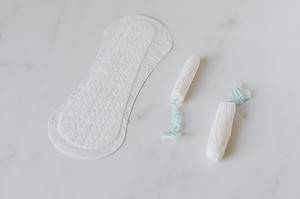 Consumers rightfully expect that sensitive feminine items, like tampons, are free of contamination with potentially lethal PFAS. So, if you suffer from a condition caused by prolonged exposure to PFAS found in tampons, you can file a lawsuit.
Contact a Lawyer to Help with Your PFAS Tampon Lawsuit
If you or your loved one have had prolonged exposure to PFAS found in tampons, consider contacting an experienced attorney.
You might be able to file a product liability lawsuit against responsible parties to recover compensation for your damages.
At Legal Giant, we can link you up with an experienced product liability lawyer to help with your case. Contact us now for a free consultation on your PFAS tampon case.