Are you thinking about filing for Chapter 7 or Chapter 13 bankruptcy without the help of an experienced bankruptcy attorney? It is understandable because you are already strapped for cash and may not afford the cost of hiring a lawyer.
However, before you decide to go it alone, there are many things you need to know.  Keep in mind that this is not a decision to take lightly because it will have significant ramifications on your financial future.
A slight mistake can be costly and could leave you in a worse off position than you are now.
In this post, we discuss everything you need to know about filing for bankruptcy without an attorney. When you can do it and when you should avoid it.
So, let us get started.
Can You File for Bankruptcy Without an Attorney?
The simple answer is "yes." You are not required to have a lawyer to file for bankruptcy. In fact, in some simple Chapter 7 cases, you can easily file for bankruptcy on your own if you are willing to dedicate some of your time to research.
Representing yourself is usually referred to as "pro se," which is a Latin phrase meaning "for oneself" or "for one's own behalf."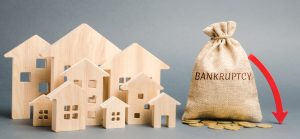 Typically, the importance of a bankruptcy attorney largely depends on the complexity of your case and whether you are filing for Chapter 7 or Chapter 13 bankruptcy.
If you decide to file without the help of an attorney, you will be expected to follow these steps:
1. Determine whether your income meets the "means test"
If you are considering filing for bankruptcy without an attorney, the first thing you need to do is conduct a "means test" to establish whether you qualify for Chapter 7 bankruptcy. The federal government has designed a test form you need to complete.
You will be expected to answer the following questions in the test form:
What is your average monthly income?
How much money do you owe debtors?
Do you have any non-exempt assets?
How many people live in your house?
Typically, filing for bankruptcy pro se is relatively easy if:
You own a few assets that can be liquidated.
Your average household income is below your state's median.
You have not been accused of fraud.
2. Obtain your credit reports and undergo credit counseling
The next thing you need to do is obtain your credit reports from all three major credit bureaus. You will need all the three reports because lenders don't report to every bureau.
Keep in mind that if you fail to report any debt, it won't be discharged in your bankruptcy case. Once you have all the credit reports, you need to undergo credit counseling and a financial literacy course.
You can find a list of approved credit education agencies on the U.S Trustee Program's official site. Pick one that is close to you and enroll as soon as possible.
3. Complete the paperwork
Once you start the process, you will realize that there are many forms you need to fill out to file a bankruptcy case. You will also be required to fill out a petition and appropriate schedules. Be sure to list out all your assets and creditors in the forms.
Countercheck with your credit reports to ensure you are not leaving out any essential details. You can download the entire bankruptcy forms package to save time and stress involved in downloading one form at a time.
The package is relatively inexpensive and will provide you with all the forms you need to file got bankruptcy in your state.
4. Attend the meeting of creditors
After filling out the forms, you will be expected to attend a "meeting with your debtors" on a scheduled date. Although the creditors won't be present during the meeting, a trustee will be present, and he/she will ask you a wide range of questions regarding your case.
Make sure you answer the questions accurately and truthfully. This is usually a short session that takes 15-20 minutes.
5. Debtor education
There are two personal finance management courses that you will be expected to take.  You will take the first one before you file for bankruptcy and the second one after you file.  You can still find an approved course near you if you take a look at the U.S Trustee program official site.
When Should You Not Represent Yourself?
While it may seem easy to file for bankruptcy without involving a bankruptcy attorney, there are some situations when it could be a bad idea to do it on your own.
Typically, you should avoid filing for bankruptcy pro se if:
1. You are filing for Chapter 13 bankruptcy
Chapter 13 bankruptcy is a relatively powerful   financial tool that can help you to:
Catch up on your missed payments such as auto loan and mortgage payments
Get rid of unsecured debt (junior liens) through lien stripping.
Reduce the interest rate or principal balance on your auto loan.
However, Chapter 13 bankruptcy is much more complicated than Chapter 7 bankruptcy. If you want a court to approve your Chapter 13 bankruptcy case, you must propose a reasonable and viable repayment plan.
It can be quite challenging to come up with a good repayment plan without the help of an experienced bankruptcy attorney.  Most attorneys have classified software they use to develop an appealing repayment that will easily be approved by the court.
2. You are filing a complicated Chapter 7 bankruptcy
Although you can easily file for a Chapter 7 bankruptcy case on your own, it makes sense to involve a bankruptcy attorney if you think it is complicated. For instance, you should consider working with a lawyer if:
You own a business
You have a lot of assets that may be at risk.
You have a significant amount of income that can easily disqualify you from filing for bankruptcy.
You have creditors that might challenge your discharge in court.
You recently transferred assets out of your name.
You have some debts that you think might not be dischargeable in bankruptcy.
Talk to an Experienced Bankruptcy Attorney Today!
When you are struggling financially and want to file for bankruptcy, you need an experienced bankruptcy lawyer who will hold your hand and guide you in the right direction. You need someone who understands the principles of bankruptcy law and how they interrelate.  Working with a general practitioner can be a costly mistake.
At Legal Giant, we care about you and want to help you overcome the financial challenges as fast as possible so you can focus on getting your financial life back on track again. Talk to us today and let us help you get the debt relief you deserve!