Auto accidents can and do happen. Typically, when an accident happens, the normal and acceptable protocol is to remain at the scene, call 911 if any of the involved parties have suffered injuries, and accurately answer police queries. This should be the case even before any of the parties involve a Houston car accident lawyer.
Unfortunately, this is not always the case.  Sometimes, a motorist hits another car, but instead of stopping and taking responsibility, they drive off and flee the scene.
This is a hit-and-run, the worst type of auto accident, and the most irresponsible way of dealing with such a situation.
If you have been involved in a hit-and-run in Houston, Texas, you should immediately contact a Houston car accident lawyer. Read on to find out how the attorney will help you.
Understanding Hit-and-Run Car Accidents
A hit-and-run occurs when a motorist intentionally leaves the scene of an accident without providing his/her contact details or helping the other party involved in the accident.
It can happen even if the driver who has fled the scene wasn't at fault. However, in most cases, the fleeing driver is at fault.
These accidents include a motorist hitting another moving car, a parked car, a pedestrian, or someone else's property.
In Houston, just like any other city in the U.S, this is a serious criminal offense that can range from a misdemeanor to felony.
What Responsibilities Does a Driver Have When Involved In An Accident?
Under state traffic laws, a driver who has been involved in an accident must take certain actions if the accident results in injury to another person or property damage. To avoid a criminal charge of fleeing the scene of an accident, a motorist must take the following action:
If the accident involved injury or death, the motorist must go back to the scene and offer aid, provide his/her contact information, insurance information, and the driver's license if needed.
If there are no injuries or death but damage to the other vehicle, the driver must stop as close to the other car as possible, render aid, provide personal details and show his/her driver's license if requested to do so.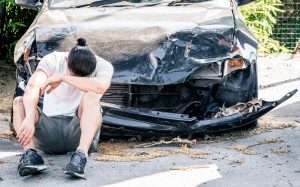 In a crash involving damage to a parked car, the driver must stop and locate the driver of the parked car and share his/her contact details and insurance information. If the other driver cannot be traced, he/she is required to leave a note in a conspicuous area with the contact information and other details regarding the accident.
If the accident involves damage to highway landscaping or fixtures, the driver must take reasonable steps to find a person of authority and report the damage along with their contact information. If the damage is worth more than $1000, the driver must file a report with the police.
Steps to Take When You Are Involved In a Hit-and-Run Accident
Although being involved in a hit-and-run can be frustrating because the driver responsible for the accident has run away, there are several steps you can take to maximize your liability and recover your losses.
The first thing you need to do is contact the police and report the accident. In many states, it is your legal responsibility to notify the police department if you are involved in an accident that resulted in injury or property damage over a certain amount.
Furthermore, you will need the police report when filing for a claim with your insurance company.
Once you have reported the accident to the police, seek medical attention. Many injuries suffered in an accident may not be self-evident. However, you need to show a clear link between injuries suffered and the accident to recover medical expenses and other expenses as part of your auto accident injury claim.
If you are not critically ill, try to gather as much information as possible about the accident. Try to write down a description of the car that hit you and the license plate. Just note down everything that you remember.
We Help Our Clients with Their Legal Needs by Connecting Them with Skilled Attorneys
Figure out if the vehicle had any unique identifying characteristics such as bumper stickers, specialty license plates, or custom rims.
If you saw the driver, you should try to write down the description of him/her while your memory is still fresh. If anyone else witnessed the accident, get their contact information because you will need witnesses.
Also, check if there are any nearby cameras that may have captured the accident.
If possible, take clear pictures of the accident scene, including photographs of the damage caused to your vehicle, the exact area where your car was hit, and the surrounding area. Shoot the photographs from different angles.
Why Wouldn't a Driver Stop?
There are many reasons why a motorist may fail to stop to survey damage caused by the accident. Some of them include:
He/she has too many traffic tickets, or his driving license is already suspended.
He/she doesn't have a valid driver's license.
There is an outstanding warrant for his/her arrest.
He/she is driving under the influence of drugs or intoxicated.
He/she may be driving a company vehicle and doesn't want to get in trouble with their boss.
He/she doesn't have permission to drive the vehicle, which is a soft way of saying it has been stolen.
PS: Never try to chase after the driver if he/she doesn't stop, even if you think you can catch up with them. In most cases, you will be pulled over for speeding.
Hit-and-Run Accidents Can Be Costly
In most cases, motorists who hit and run are at fault in an accident and are responsible for compensating the victims.
If the victim is lucky enough and the other driver is caught, the at-fault driver's insurance company will be a target for a personal injury lawsuit or settlement claim.
Unfortunately, most hit-and-run drivers don't carry insurance which may be one of the reasons they run away from the scene.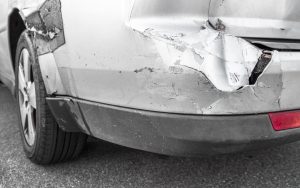 Even if the driver is caught later, the burden of recovering losses suffered still falls on you. If he/she is uninsured, you will be forced to seek compensation from your own insurance company.
However, to make such a claim, you must be carrying uninsured motorist coverage with your insurance company.
Alert your Houston car accident lawyer in advance if you don't have such coverage to avoid paying significant amounts of money out of pocket for damages you did not cause.
Talk to a Houston Car Accident Lawyer Now for Legal Assistance!
In the chaos and confusion following a hit-and-run accident, it can take a while before you come out of shock. When the at-fault driver is nowhere to be seen, your feelings can be heightened.
Typically, you will have many questions flooding your mind. Who will pay my medical bill? Will I be able to work again? Who will be responsible for the damage caused? Will I be able to afford repairs on my car?
One of the best ways of alleviating these concerns is to speak with an experienced Houston car accident lawyer who will assess your situation and advise accordingly.
Keep in mind you have rights, and your car accident attorney will ensure your rights are fully protected.
At Legal Giant, we care about you and want to ensure a highly experienced attorney handles your case if you are involved in a hit-and-run. Our primary objective is to help you get the compensation you are entitled to without unnecessary stress.
Call us today to speak to an experienced car accident attorney.